Business
Americans' favorite Easter candies and Passover foods revealed: Instacart survey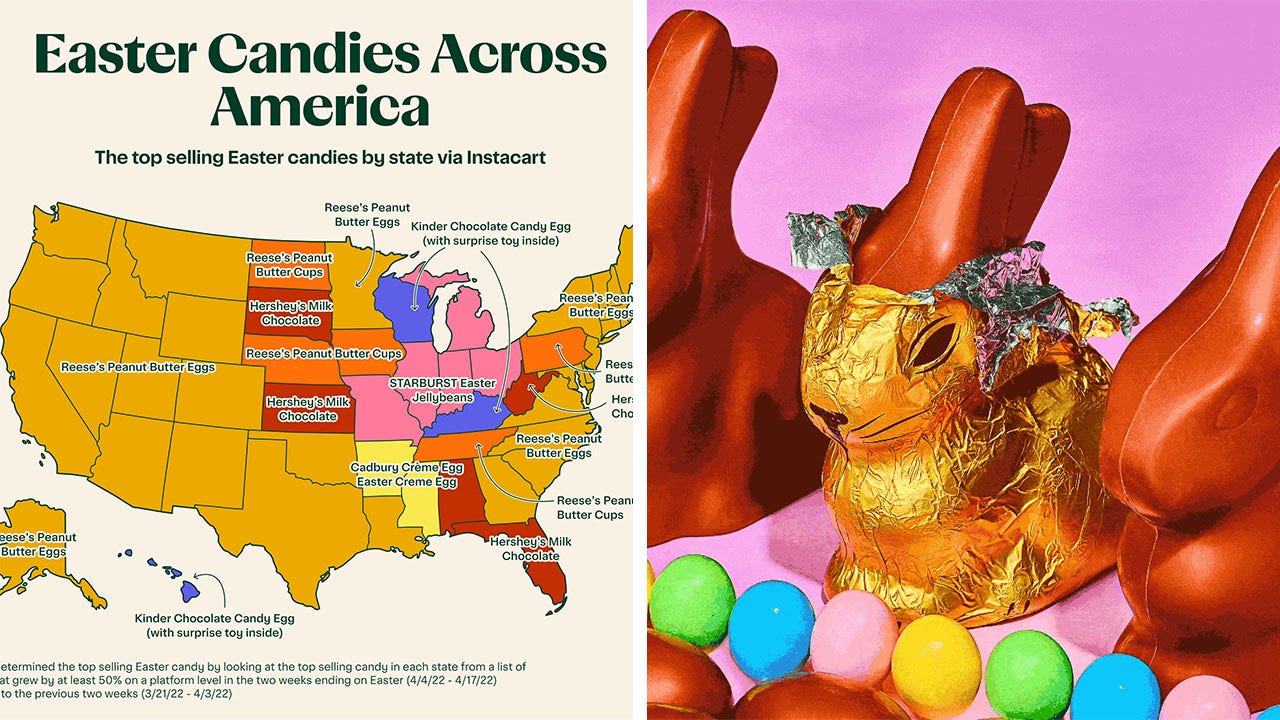 It may only be mid-March, but many people may be looking ahead to two spring holidays: Passover, taking place on Wednesday, April 5, and Easter, falling on Sunday, April 9.
In honor of the celebrations, Instacart, an online grocery delivery and pick-up service, took a dive into what Americans are filling their pantries and fridges with this spring holiday season.
A new Instacart survey conducted online by The Harris Poll with more than 2,000 American adult respondents found that two in three Americans typically celebrate Easter, and 92% of those who celebrate plan to buy Easter candy this year, according to a news release.
INSTACART'S REVENUE AND PROFIT CLIMB AHEAD OF PUBLIC LISTING
For those stocking up on said treats, a clear winner emerges: "Americans certainly have a hankering for the sweet combination of chocolate and peanut butter. When looking at the top-selling Easter candy in every state, Reese's Peanut Butter Eggs are the clear favorite in 29 states including the entire west coast," Laurentia Romaniuk, Instacart's trends expert, told FOX Business.
"By and large, a clustered majority of the Midwest and South prefer other Easter candies and flavors, which goes to show that where you live could have a noticeable effect on what you like," she added.
Along with Reese's Peanut Butter Eggs, Kinder Chocolate Candy Eggs with a surprise toy inside followed by Starburst Easter Jellybeans rounded out the top three most popular seasonal candies sold on Instacart for Easter.
WALMART OFFERS EASTER BASKETS, MEALS AT LAST YEAR'S PRICES AS HIGH INFLATION ON HOUSEHOLDS
Peeps and jelly beans remain popular choices – with 51% of those surveyed who will buy Easter candy saying they plan to pick up jelly beans and 42% have their eyes on fluffy marshmallow Peeps.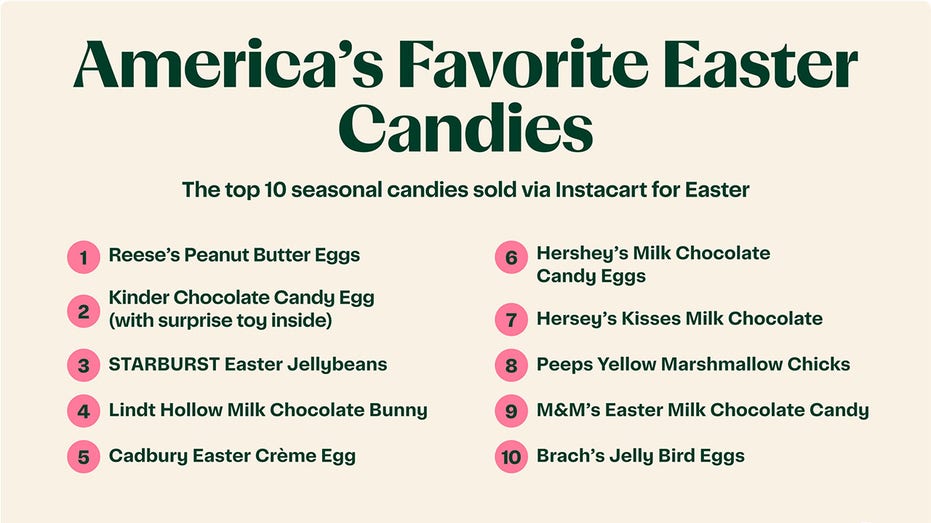 In addition to overall purchase data and polling candy cravers, Instacart also revealed the best-selling Easter candies by state. As shown in the map, Reese's Peanut Butter Eggs did a clean sweep out West, securing the number one slot in 29 states.
Proving themselves quite popular in five states each, Reese's Peanut Butter Cups, Starburst Easter Jellybeans and Hershey's Milk Chocolate tied for second place.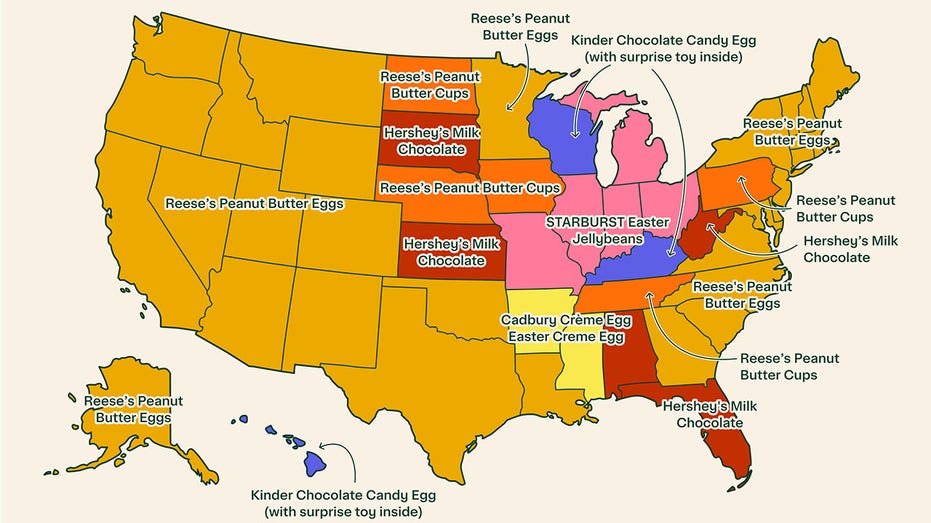 Beyond candy, there's another key item shoppers are loading into their Instacart baskets come Easter time: food dye for egg decorating.
"As a Canadian-Ukrainian, painting Easter eggs — what we call "pysanky" —  has always been a big tradition for me," shared Romaniuk in the company press release. 
"To paint a picture for the U.S., last year, grocery carts containing eggs and food coloring spiked a whopping 916% in the week leading up to Easter. Instacart's recent survey found that 66% of those who celebrate Easter typically dye eggs, and a majority of those (78%) will eat the eggs they dye so nothing goes to waste," she continued.
INSTACART DELIVERS AFTER TWIN DAUGHTERS ALMOST MAKE AN $800 PURCHASE
And what's an Easter table without ham? 
Per the polling, 41% of those celebrating Easter are most excited for the holiday supper. 
Out of the Easter celebrants surveyed, 74% of Americans enjoy ham as the main course for dinner, and Instacart shopping data concurs, with orders increasing by 254% in the week before the holiday last year.
Per Instacart sales' spikes data from 2022, here are some other trending foods that customers gobbled up in the week leading up to Easter
Rack of lamb: +379%
Dinner rolls: +94%
Brisket: +76%
Canned green beans: +32%
Asparagus: +25%
Russet potatoes: +22%
Sweet potatoes: +21%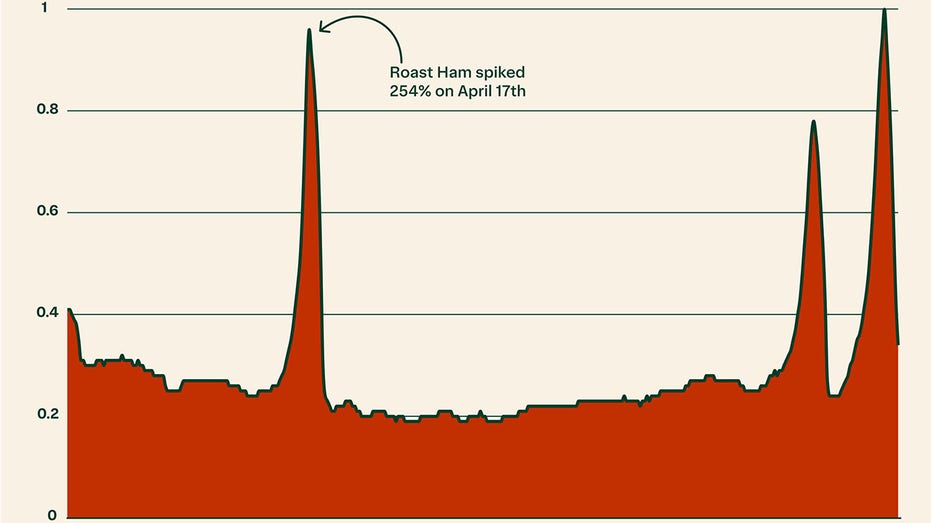 Food is also an important part of the festivities for Jewish people celebrating Passover, also known as Pesach. 
This holiday, which honors the biblical tale of Israelites escaping slavery in Ancient Egypt, involves avoiding bread products and foods made with yeast during the week of Passover.
Fittingly, the unleavened flatbread called matzah or matzo remains a pantry staple for Passover celebrations worldwide. As Instacart purchasing data from last year indicated, orders for matzah skyrocketed nearly 300% in the week preceding the holiday.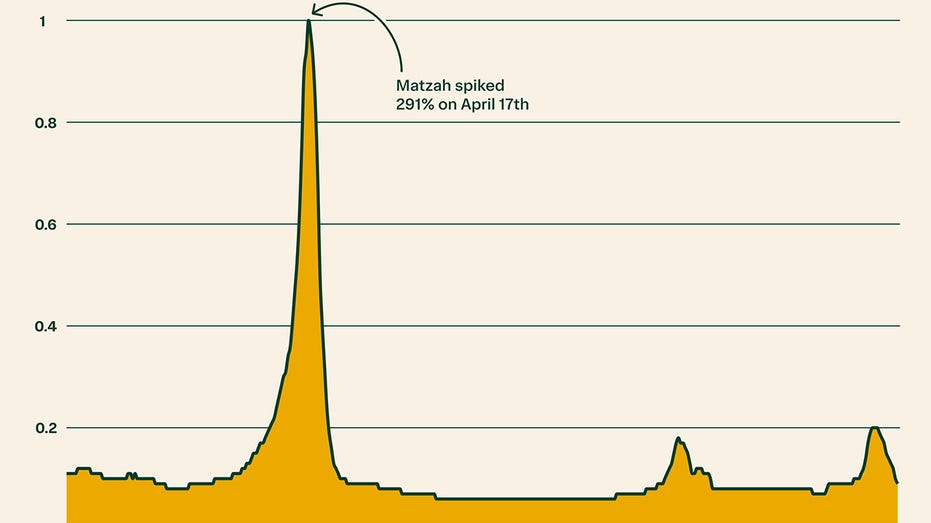 At the Seder, a traditional Passover feast which follows the Haggadah, a text outlining the ritual that Jews read at their gatherings, many delectable foods running the gamut from charoset, a symbolic dish of apples and nuts [an homage to the mortar and brick that Hebrew slaves used to build edifices for Egyptian pharaohs], to potato kugel.
Last year during the days leading up to Passover, Instacart sales increases for staple holiday foods were as follows: 
Rack of lamb: +97%
Matzo ball soup mix: +73%
Gefilte fish: +58%
Brisket: +53%
For more information, visit Instacart.com.
Read the full article
here