Lifestyle
California woman treats pet pig like her child, goes viral on TikTok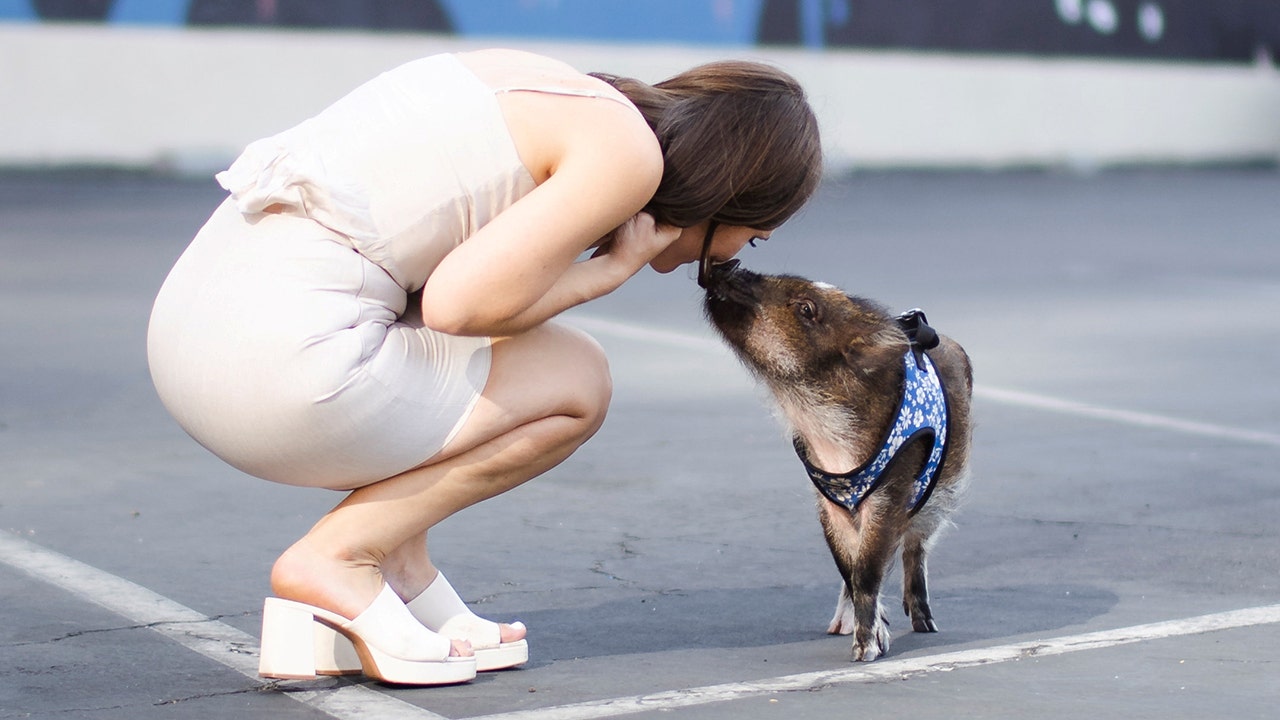 A California woman went viral on TikTok after she posted about her pet pig named Merlin. 
Mina Alali bought a miniature pig last year after claiming to have wanted one for her entire life — saying it was a dream come true, according to news service SWNS.
The 25-year-old from San Jose, California, said she bought her pet from a breeder — and that it was love at first sight.
PIG HOGS BED IN GEORGIA WOMAN'S HOME: 'SHE STEALS MY PILLOW'
"I was crying tears of happiness because my lifelong dream to own a pig was finally happening," she said. 
Merlin is a mini-Vietnamese potbelly pig. When he's fully grown, he could weigh up to 80 lbs. 
"Merlin was on sale because he was older and bigger than the other pigs, and plans for two homes to adopt him had already fallen through," the pig owner said. 
Alali said that training Merlin to be calm was a challenge at first — noting that she had to teach him not to scream when someone picked him up, as SWNS reported.
With time, however, Merlin grew closer to his new owner. 
NEW YORK MAN FIGHTS TO KEEP BELOVED EMOTIONAL SUPPORT PIG
Merlin is very open to human affection and cuddling, said Alali — even when it comes to sleeping. 
"He sleeps next to me in my bed," she said.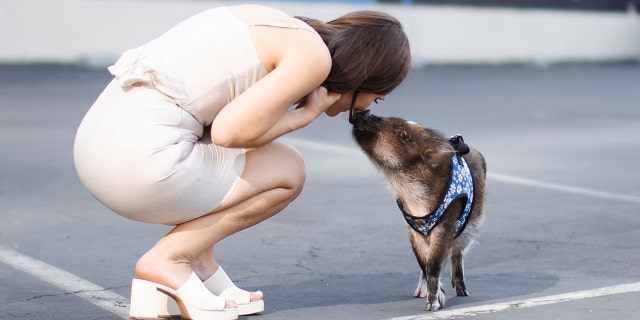 Alali takes the pet pig with her everywhere — in the car, on walks, to dinner with friends and even on trips to Starbucks. 
"It's definitely an obstacle sometimes … You have to dedicate as much time and love and affection to [the pig], as you would a toddler," she said. 
'MINI PIGS' BECOME GROWING PROBLEM AS ANIMAL SHELTERS BECOME INUNDATED WITH OVERGROWN SWINE
Merlin has gained quite the following on TikTok, SWNS noted.
"He sleeps next to me in my bed."
Alali's account, with most videos there of her pig, has racked up 1.7 million followers. 
In the videos, Alali shows off her miniature pig's many skills and abilities. 
She felt the experience of going on "America's Got Talent" would be too stressful for her pet pig.
Merlin learned how to press electronic buttons that say "outside," "eat" and "ice" to better communicate with his owner.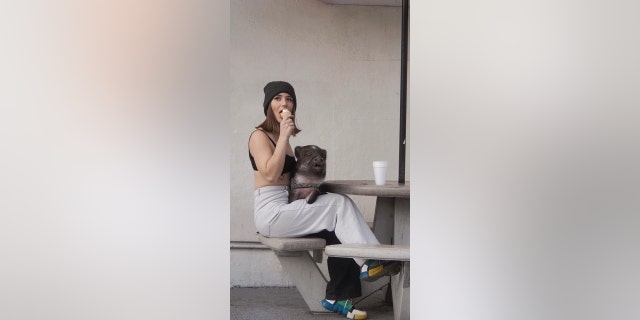 He can also perform tricks such as high-fives or "sit" and "stay" — similar to a trained dog. 
Merlin also has his own Starbucks order: a cup of ice, as SWNS reported.
Alali and Merlin were invited to be on the TV show "America's Got Talent" but the owner declined. She said she felt the experience would be too stressful for her pet pig, she said.
"Making videos in the comfort of my own home is OK," Alali said, noting she is not seeking to "exploit" Merlin or put him "in a stressful situation."
The pig owner also owns two rats — Millie and Miracle. 
She says Merlin likes to play with both of them. 
Read the full article
here