Politics
Before he represented Trump, defense attorney speculated Stormy Daniels saga was true and payment could be seen as an in-kind campaign contribution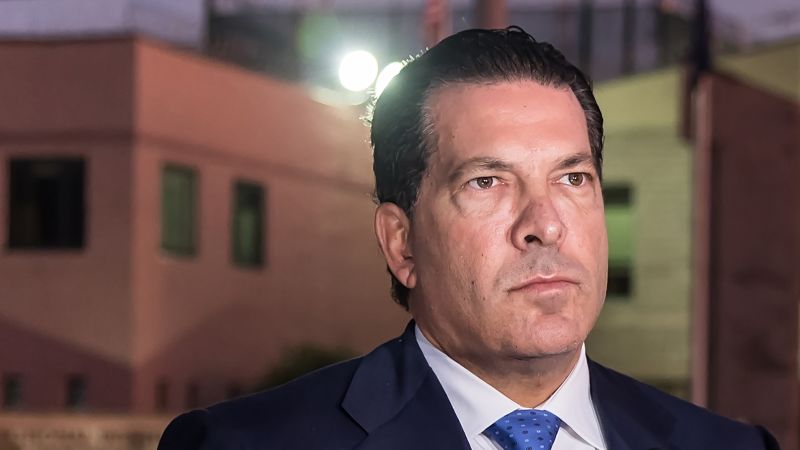 Former President Donald Trump's defense attorney repeatedly speculated as a legal pundit that Trump's alleged affair with Stormy Daniels likely happened and that the $130,000 payment made to Daniels days before the 2016 election could be seen as an in-kind campaign contribution, contradicting his recent legal and public defense of Trump.
Joe Tacopina, a defense attorney representing Trump in the Manhattan District Attorney's Office investigation of Trump, made the comments in 2018 as a prominent legal commentator – years before he would ultimately represent the former president in the case that may indict Trump.
In multiple appearances on CNN in the spring of 2018, Tacopina speculated that Trump had an affair with Daniels after she detailed their encounter and because "to me, you know it means it's true because he hasn't threatened to sue" nor did he tweet about it. He also said that as a lawyer, he would have advised Trump to admit to the affair and move on.
"I mean, it's remarkable when you talk about the president of the United States, but it, honestly, it's not remarkable when you're talking about Donald Trump, the president of the United States," Tacopina said. "No one was here, is going, 'Oh my God, I can't believe this!' This is why I've been saying since day one if they had just said, 'Yeah, OK.' I mean, he survived much greater – I don't even know if they're called scandals – but episodes than this. This is from 2006. I mean, this is way before he was the president."
"I've said all along, if he had just come out and said, 'Yeah, I did. So what?' And just chalk that up to another one of the things on his list of minor scandals, he gets through," said Tacopina in another appearance on CNN in 2018.
"But she went into great detail about her one-night stand with him. What else can she say? There is nothing else to tell," added Tacopina.
And in the spring of 2018, Tacopina acknowledged that the episode could put Trump in jeopardy "because this could be looked as an in-kind contribution at the time of the election. This is a real problem. And they both, and I'm telling you this, the reason we're here, I strongly believe is because of the words of both Michael Cohen and Donald Trump."
But five years later, acting as Trump's defense attorney, Tacopina reversed his argument, calling the payment to Daniels "plain extortion," dismissing potential campaign finance violations and repeating Trump's denials that he ever had the affair.
"This was a plain extortion. And I don't know, since when we've decided to start prosecuting extortion victims. He's denied, vehemently denied, this affair," said Tacopina on "Good Morning America" last week. "But he had to pay money because there was going to be an allegation that was gonna be publicly embarrassing to him, regardless of the campaign. And the campaign finance laws are very, very clear, George, that you cannot have something that's even primarily related to the campaign to be considered campaign finance law."
In a statement to CNN, Tacopina said that he offered his opinion based on a hypothetical and that "my mind hadn't changed about the issue but what has changed is that I learned the facts."
The comment is just one of many that Tacopina made about the former president, according to a CNN KFile review of other comments. In one appearance, made in February 2021 on WABC radio, a local New York station, Tacopina said Trump deserved impeachment for his verbal attacks inciting his supporters – who he called "a bunch of idiots" and "lunatics" – to attack the Capitol on January 6, 2021.
"I don't think he did anything criminal," Tacopina said on WABC in February 2021 when discussing the riot. "Did I think he did something impeachable? Yes, I do."
"Do I think they're divisive? Yes. Do I think he spreads hate? Yes. Do I think everything he's done is wrong? No. Do I think he did some good things? Yes. So I like to just sort of call it like I see it, and I'm not so partisan one way or another," Tacopina continued. "But you know, when you say to a bunch of lunatics, a bunch of, you know, people who have had a propensity towards violence. Before these groups that are gathered, you know, which was a planned gathering, 'Hey, go to the Capitol and fight and fight.' Fight for what? Go to the Capitol and fight for what does fight mean to these idiots? What do you think it meant?…They killed people."
"Do I think he thought they were gonna break some windows and do some things? Absolutely," he later added.
Tacopina would later represent one of the Capitol rioters who assaulted Capitol Police Officer Brian Sicknick, who later died of natural causes on January 7; the rioter was sentenced to 80 months in prison.
Tacopina also previously criticized the former president for attacking the justice system.
"This is the Justice Department, how it works every single day of the week. But for some reason, the president cannot cope with that," said Tacopina in 2018.
"What chills me as a lawyer, forget about being a defense lawyer or a former prosecutor as I am, is that our president is attacking the foundation of our justice system in this country by calling to question the FBI, the Justice Department, his own attorney general, every judge whoever rules against him. Yeah, it's just unhealthy for the sort of the health of this justice system."
Read the full article
here