Politics
Bidens celebrate NCAA women's basketball champion LSU Tigers at the White House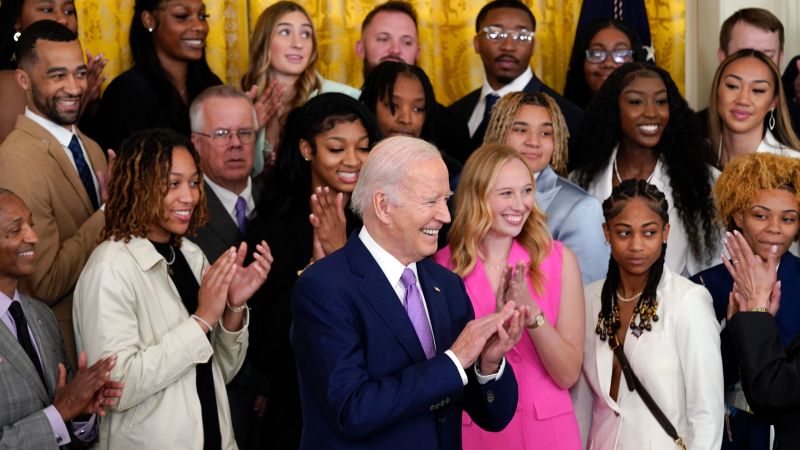 President Joe Biden and first lady Dr. Jill Biden welcomed the 2023 NCAA women's basketball champions, the Louisiana State University Tigers, to the White House on Friday, celebrating their accomplishments and the example they've set for the country.
"You didn't just play basketball, you didn't just make history, you showed us – girls and boys, women and men – what it means to be a champion. You gave us hope and joy, a way to find that fire in ourselves. And most of all, the chance to see you soar. Thank you for giving us those gifts," the first lady said.
Vice President Kamala Harris also spoke during the celebration ceremony, congratulating the Tigers on their first ever championship and applauding them for their inspiring example.
"Throughout your record-breaking season, you showed the world who you are. You are leaders. You are role models, and of course you are champions. Tigers, we know through your grit, determination, and brilliance you changed the game. When you take the court, you inspire so many people across our country and as we talked about earlier, you are inspiring people that you may never meet," Harris said.
During his remarks, President Biden celebrated the team's record-breaking accomplishments and called on the country to support women's athletics.
"Folks, we need to support women's sports not just during the championship runs but the entire year and every season. Showing up in person, watching on television, creating more programming and sponsor and scholarship, and sponsorships and opportunities for millions of women and girls to realize their dreams and know they can do literally anything at all," Biden said.
Later on in the day, the Bidens will also welcome the NCAA men's basketball champions, the University of Connecticut Huskies, for their own celebration.
Following the president's remarks, LSU Tigers co-captains Angel Reese and Emily Ward presented team jersey to the Bidens.
Dr. Biden and Reese also hugged after the jersey presentation. There had been some public drama around the visit after the first lady suggested that LSU's championship opponents, the University of Iowa Hawkeyes, would also be invited. Reese took issue with the comments, which Biden walked back shortly after, and said that she and her team would not visit the White House. Days later, Reese said she would attend.
During his remarks, the president also welcomed some of the administration officials and members of Congress attending the event, including several of the various negotiators from the White House and Capitol Hill who are working on an agreement to raise the nation's debt ceiling.
Two from Louisiana – Shalanda Young, the director of the Office of Management and Budget, and Rep. Garrett Graves, one of House Speaker Kevin McCarthy's lead negotiators – were on hand to celebrate LSU.
Biden noted Graves' presence alongside other lawmakers in attendance and gave a hearty shout-out to Young, whom he said is "putting together a deal, hopefully."
"She's reppin' Baton Rouge and Clinton, Louisiana, and is now helping lead the critical budget talks we're in the middle of now," Biden said. "But she said, I'm leaving the talks to be here."
Graves and Young both hail from the Baton Rouge area and have previously worked together. Young's parents are Graves' constituents.
The proceedings were delayed for a few minutes after a player on the risers behind Biden appeared to pass out or faint during his remarks. After a few minutes she was able to get up and the people in the room clapped. She was then brought out of the room in a wheelchair.
"Like I said, this is not the first time this has happened, not to her but to a lot of folks standing up on this stage," Biden said.
Read the full article
here