Politics
Bipartisan group of lawmakers clean Vietnam Veterans Memorial ahead of Memorial Day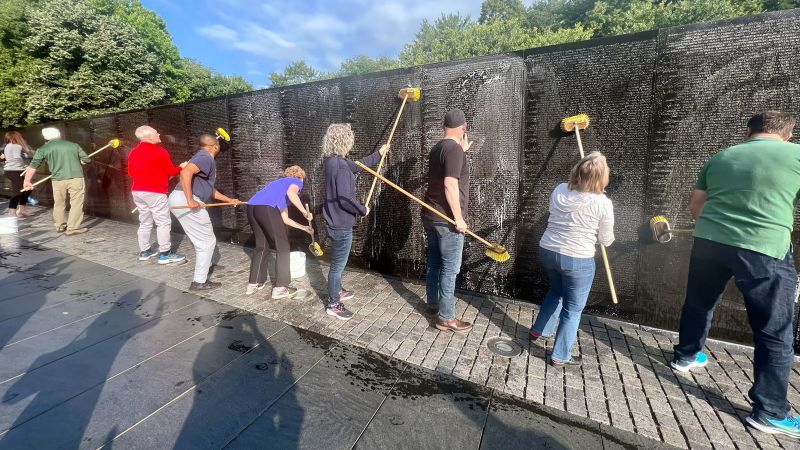 In Washington, honoring America's Vietnam veterans is not a partisan issue. A bipartisan group of lawmakers, including military veterans Reps. Mike Waltz and Seth Moulton, participated in a volunteer cleaning of the Vietnam Veterans Memorial ahead of Memorial Day. Waltz, a combat-decorated Green Beret, has led the effort in hand-washing the memorial in Washington in recent years.
"It's good for us as members of Congress to come down here to see these 58,000 names," Waltz, a Florida Republican, told Jake Tapper on "CNN This Morning." "This is good for Americans to see us coming together, setting our differences aside and appreciating that freedom isn't free," Waltz said.
Waltz said the effort was important to appreciate Vietnam War veterans.
"We learn so much from them about what they went through when veterans weren't appreciated" because "the country had, for the first time in history, turned against them."
"We'll do this every year and I'll try to do this every year I'm in Congress," Waltz pledged.
Moulton, a Massachusetts Democrat, described participating in the event as "incredibly powerful" and an opportunity "to appreciate what they gave to America, what they gave to all of us, to a country that at the time didn't even appreciate their sacrifices."
Moulton, a Marine, added that the effort serves as "a reminder of all the young men and women who are still out there, standing on the ramparts of freedom around the globe and are counting on us to come together and do the right thing in Washington."
Moulton also noted efforts to construct a 9/11 war memorial, which has recently been sited between the Vietnam Veterans and Lincoln Memorials, saying that it would be "a prominent place on the Mall – on the National Mall – for all those we've lost so recently."
Michigan GOP Rep. Jack Bergman, a retired lieutenant general and a Vietnam veteran, reflected Thursday on his visits to the memorial.
"Normally I come here alone," he told Tapper. "Once I get here, I'm never alone because I know who I'm visiting."
As Congress remains divided along party lines on raising the debt ceiling ahead of a potential default, the volunteer cleaning helped two congressmen from opposite sides of the aisle realize that they have more in common than they previously thought.
Reps. Jim Baird, an Indiana Republican, and Mike Thompson, a California Democrat, said they learned they both had been stationed at Georgia's Fort Moore, were wounded in Vietnam and are married to nurses.
"We're here to work together for the American people and maybe that'll help us get there," Thompson said.
This story has been updated with additional details.
Read the full article
here