Politics
CNN Poll: Most Americans want stricter gun control, but they're divided on whether guns make public places safer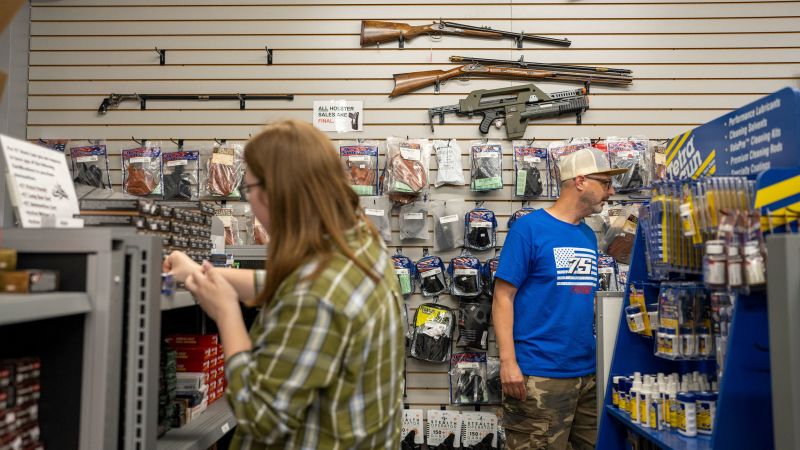 Most Americans continue to say gun control laws should be generally stricter, according to a new CNN poll conducted by SSRS, which finds broad support for preventing people under the age of 21 from buying any type of gun. At the same time, the country remains closely divided about how the availability of guns affects public safety, with sharp differences in views across partisan and demographic lines.
Overall, 64% say they favor stricter gun control laws, with 36% opposed, little changed since a survey taken last summer in the wake of a mass shooting at an elementary school in Uvalde, Texas.
About one-third of Americans, 36%, say that the presence of guns makes public places less safe, while 32% say that allowing gun owners to carry their guns in public makes those places safer and the rest that it makes no difference to safety.
Just over half the public, 54%, say they believe having stricter gun control laws would reduce the number of gun-related deaths in the country.
Public appetite for stricter gun laws has often tended to spike in the aftermath of high-profile mass shootings – but with the frequency of such incidents, that elevated support may have become somewhat more durable. CNN's polling has found consistent majority backing for stricter guns laws since 2016, with 60% or more favoring tighter restrictions in every survey to ask the question since the 2018 mass shooting at a high school in Parkland, Florida.
There's also been a sustained shift over the past decade in the intensity of opinions, which now consistently and substantially favor gun control advocates. In CNN polls conducted between 2013 and 2017, strong support for stricter gun laws outpaced strong opposition by an average margin of only 5 percentage points. In the years following the Parkland shooting, that margin has surged to an average of 30 points.
In the latest survey, strong support for gun control laws among the full public stands at 46%, while strong opposition stands at 20%. Democrats are more likely than Republicans to hold intensely felt views: 80% say they strongly support stricter laws, nearly doubling the 42% of strong opposition among Republicans.
Views on enacting stricter gun control laws are also sharply polarized overall. A majority of Democrats (92%) and independents (65%) support new restrictions compared with 36% of Republicans. By contrast, there's relatively little of an age divide, with 67% of adults younger than 45 and 62% of older adults in favor.
Gun ownership also divides views, with 76% of those living in households without guns saying they support stronger laws, compared with 45% among those who live in a gun-owning household. Americans living in gun-owning households are more than twice as likely as those in non-gun owning households to say allowing owners to carry guns in public places would increase public safety, 47% to 22%.
Republican men also stand out for their perspectives. Nearly three-quarters, 72%, say they believe guns make public places safer, a view shared by just under half of Republican women (48%), and one-third or fewer of Democrats or independents of either gender. And 73% of Republican men oppose stricter gun laws, compared with 55% of GOP women, and fewer than half of any other group.
Most Americans, 58%, say the government can take actions that would be effective in preventing mass shootings, compared with 42% who say shootings will happen regardless of what action the government takes. Opinions on this question divide along both partisan and age lines: 66% of Republicans and 51% of adults age 45 and older see mass shootings as inevitable, while fewer than one-third of Democrats or those younger than 45 say the same. Both Republicans and independents younger than 45 are significantly more bullish than their older counterparts about the potential for government action, while there's effectively no divide between older and younger Democrats.
The White House gets low marks for its approach to gun policy. Just 30% of Americans approve of President Joe Biden's handling of the issue, down 7 points from March and significantly below his current overall 40% job approval rating.
The poll finds near-universal public support, at 94%, for a proposal to prevent certain people, such as convicted felons or people with mental health problems, from owning guns, up 7 points from 2018. Support for a proposal to prevent people younger than 21 from buying any type of gun stands at 80%, up 9 points from five years ago. A smaller 59% majority of Americans favor a ban on the manufacture, sale and possession of rifles capable of semi-automatic fire, such as the AR-15, a number that's relatively unchanged from 2018 – but up 10 points from the year prior.
Most Republicans oppose a ban on rifles capable of semi-automatic fire, while most Democrats support it. Support for the other two proposals crosses partisan lines, with 94% of Democrats, 80% of independents and 66% of Republicans all favoring a ban on gun sales to people under 21. More than 9 in 10 of Democrats, independents and Republicans alike support bans on gun ownership for felons and people with mental health problems.
The CNN Poll was conducted by SSRS from May 17-20 among a random national sample of 1,227 adults drawn from a probability-based panel. Surveys were either conducted online or by telephone with a live interviewer. Results among the full sample have a margin of sampling error of plus or minus 3.7 points; it is larger for subgroups.
Read the full article
here