Politics
Trump and DeSantis to clash Friday as campaigns collide publicly in Washington and behind closed doors in Florida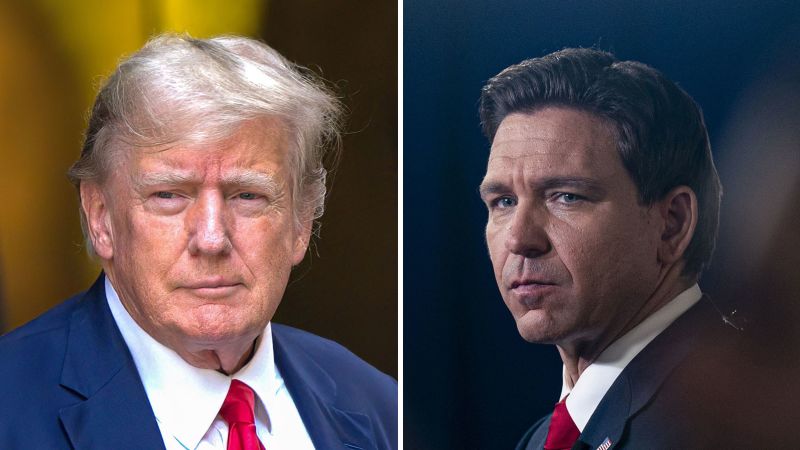 The presidential campaigns of former President Donald Trump and Florida Gov. Ron DeSantis will clash out in the open and behind closed doors on Friday as their fight for the future of the GOP intensifies.
The two leading presidential candidates are expected in Washington, D.C., for a pair of dueling appearances at two separate conservative confabs – the Pray Vote Stand Summit hosted by the Family Research Council and a gathering organized by the Concerned Women For America.
Meanwhile, at an Orlando hotel, the Republican Party of Florida is expected to reconsider plans to require a loyalty pledge of its presidential candidates – a brewing proxy war between Trump and DeSantis that is threatening to tear apart the GOP in the state both call home.
The collision between Trump and DeSantis on these particular battlefields over the next 24 hours is illustrative of two themes that have dominated the campaign lately: Who can capture the influential support of the evangelical community and whether anyone can loosen Trump's grip over the GOP.
The events in the nation's capital will provide Trump and DeSantis an opportunity to sway Christian conservative voters who make up an outsized force in two of the early nominating states – Iowa and South Carolina. Former Vice President Mike Pence and entrepreneur Vivek Ramaswamy also are scheduled to address the Pray Vote Stand Summitt.
DeSantis has made courtship of the evangelical vote a top priority, particularly in Iowa, where evangelical influences have historically swung outcomes in the state's caucuses. He and his wife Casey accompanied prominent Iowa evangelical Bob Vander Plaats to church last month. Before heading to Washington, DeSantis' campaign on Thursday announced a "Faith and Family Coalition" and the endorsements of more than 70 faith leaders in the early nominating states of Iowa, New Hampshire and South Carolina.
After the events in Washington, DeSantis will head to the Hawkeye State on Saturday for the Iowa Faith and Freedom Coalition in Des Moines, an event that has attracted much of the GOP primary field, except Trump. The former president has at times clashed with faith leaders, particularly over abortion, though polls continue to show he carries strong support in states where Christian conservatives make up a sizable number of Republican voters.
As their courtship of Christian audiences takes place in public, privately, another persuasion campaign is taking place in Florida.
There, top leaders of the state GOP are gathered for their quarterly meeting, where a fight is expected over whether to require presidential candidates to sign a loyalty oath to appear on their primary ballot.
The state party maneuvered quietly earlier this year to require all candidates to pledge to endorse the nominee, a move seen by Trump allies as a maneuver intended to boost DeSantis. Pro-Trump forces in the party, led by state Sen. Joe Gruters, a former chairman of the Florida GOP, are pushing for a vote Friday night to scrap the oath, which Trump is unlikely to sign.
Whatever the party ultimately decides, it will leave either Trump or DeSantis wounded in the state where both live and have battled for fealty from its Republicans.
The behind-the-scenes drama is unfolding as DeSantis is ratcheting up his criticism of Trump. DeSantis has lately sharpened his attacks on the former president, particularly over how the two leaders handled the coronavirus pandemic.
After Trump in an interview distanced himself from his actions during the pandemic and attempted to pin vaccine mandates on DeSantis, the Florida governor on Thursday said it was "really pathetic to sit there and listen to that drivel." DeSantis also ripped Trump for claiming not to know who gave Dr. Anthony Fauci a presidential commendation.
"Give me a break, people need to take responsibility for their actions," DeSantis said on the Steve Deace show. "They need to own what they did. And here's the thing that's important: Looking forward, you know, with me, all those mistakes will never be repeated again."
Read the full article
here