Sports
Shanghai Masters snooker final LIVE – Ronnie O'Sullivan faces world champion Luca Brecel for 2023 title – Eurosport
Ronnie O'Sullivan – Luca Brecel
Shanghai Masters final – refresh page for latest live updates
O'SULLIVAN 1-1 BRECEL (4-34)
Luca can't slot a red with the rest. O'Sullivan plays safe before Luca then mishits a safety shot after clipping the yellow as white drops down a hole. The referee has to replace these balls. Could take some time this one to get the balls back.
O'SULLIVAN 1-1 BRECEL (0-28)
O'Sullivan can't slot a long red, and Brecel rolls in a red at top end of table before carting home a long trademark blue to yellow bag. Fearless potter when he is in full flow. Not hanging about out there so far.
O'SULLIVAN 1-0 BRECEL (0-134)
What can you say about this? Just too good. In goes the century from Luca before he clears the colours for a total clearance of 134. Clipped that red into the right centre pocket with an audacious pot and clears the table. We are all level at 1-1. Battle is joined. You might say.
O'SULLIVAN 1-0 BRECEL (0-70)
Golden chance of a century for Brecel in the second frame. What a start to this match. Rapid, quickfire stuff from both men among the balls.
O'SULLIVAN 1-0 BRECEL (0-55)
Luca an expert at potting balls from all over the table. A very dangerous customer when he is in the mood. And he has been right at it in the second frame. That long cue action gives him so many options when he is making a break. This has been some response.
O'SULLIVAN 1-0 BRECEL (0-16)
Luca with a marvellous cut on a red to right middle. What a shot that is. Very much in the mould of see pot, play pot. He isn't going to get bogged down in any tactical stuff today. That is for sure.
O'SULLIVAN 0-0 BRECEL (86-4)
So O'Sullivan rolls in another 48 to go with the earlier 38 in putting the first frame to bed. Classic O'Sullivan. No messing about. Efficient and businesslike at the table when the chances came along. He leads this final 1-0.
O'SULLIVAN 0-0 BRECEL (65-0)
Luca yet to really settle out there. Has chance of a long red to get back into the frame with hand on table, but butchers the pot. "Never a good feeling as a player when you do that," says Alan McManus, the 1994 Masters champion, in comms. We've all been there, Alan. Hitting across the white ball. But then again, we're not playing for 210 grand. Anyway, golden chance for Ronnie to get frame won.
O'SULLIVAN 0-0 BRECEL (38-0)
Ronnie leaves Luca a long red to go at. Can't drop that in from distance. And O'Sullivan makes a rapid 38 before running out of position. Just lost the white at key moment, but not a bad little camero run to get the cue arm working early on.
O'SULLIVAN 0-0 BRECEL (0-0)
A huge welcome for both players for this final. And rightly so. Ronnie gets us up and running. 10 frames to be played this morning, and 11 in the evening session. If they are needed. Could have an absolute classic on our hands.
Good morning and welcome to the final
Does not get any better than this on a snooker table. Hope you have the kettle boiled and ready for an epic morning cuppa. Snooker GOAT and world No. 1 Ronnie O'Sullivan meets world champion Luca Brecel for the Shanghai Masters crown and a £210,000 winner's cheque at the elite 24-player invitational event.
O'Sullivan is chasing a record fifth title in Shanghai and a fourth straight title success against a player who won seven straight frames against him from 10-6 down in a famous 13-10 quarter-final win at the Crucible in April. Of course, that was a major step on Brecel's road to becoming Belgium's first world champion.
Should be a thrilling contest with the morning session of this best-of-21 frame final all set to break off before a packed crowd at 7am (BST) and the concluding session from 12:30am (BST). Boys on baize time imminent.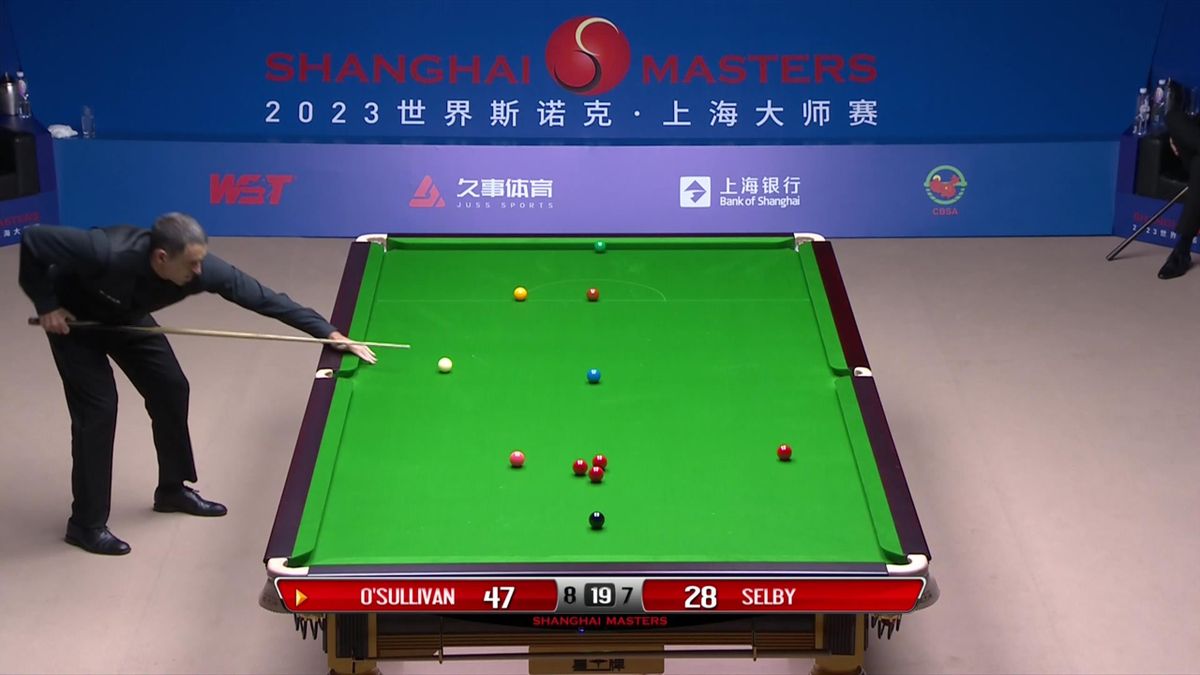 Welcome…
…to live coverage of the Shanghai Masters final between Ronnie O'Sullivan and Luca Brecel.
Stream top snooker action, including the Shanghai Masters, live on discovery+, the Eurosport app and at eurosport.com
Read the full article
here