Sports
Shanghai Masters snooker final LIVE – Ronnie O'Sullivan leads world champion Luca Brecel in £210,000 title showdown – Eurosport
Ronnie O'Sullivan – Luca Brecel
Shanghai Masters final – refresh page for latest live updates
End of first session: O'Sullivan 6-4 Brecel (play resumes 12:30pm BST)
O'Sullivan led 3-1 before Brecel reeled off three frames for a 4-3 lead. Ronnie steeled himself to win the next three in securing a 6-4 lead before they play to a finish from 12:30pm (BST). Brecel with breaks of 134, 75, 98 and 103, O'Sullivan rolling in 57 and 78, but the snooker GOAT showing all his matchplay skills to stay in front. Not all about the big breaks in snooker. First man to 11 frames will claim the £210,000 first prize. Should be quite a finish between the world champion and world No. 1.
O'SULLIVAN 5-4 BRECEL (69-44)
Luca slots the yellow, but sees the white head down right centre pocket. Well, what a moment. O'Sullivan pots yellow to left middle. Wriggles in and he is heading for a 6-4 lead. In goes the final blue and pink. O'Sullivan holds a 6-4 lead. What an absorbing first session. We will be back at 12:30pm for the conclusion of this final.
O'SULLIVAN 5-4 BRECEL (45-44)
Heading for a close finale to this final frame. Two reds tied up and Luca is on the slightly easier one. Which he nudges in with the rest. All very tense. Luca then miscues on the black trying to get back up the final red. No real damage done. Apart from to his cue tip. Great pot on final red from distance by Luca, but not on right angle on pink to land on yellow. Just the roll up behind pink.
O'SULLIVAN 5-4 BRECEL (45-24)
O'Sullivan breaks down on 31 as a white ends up jumping down the top bag and red to right middle doesn't drop. Was a tough shot to take on and push the boat out. Chance then for Brecel to fight back.
O'SULLIVAN 5-4 BRECEL (30-0)
This final has raced along. Nine frames down since they began playing at 7am this morning. Fascinating levels of play from both men. Luca has done the scoring, but finds himself trailing 5-4. And Ronnie picks out another wonderful long red. Brilliant. Chance then to crack on here.
O'SULLIVAN 4-4 BRECEL (78-29)
A timely and marvellous break of 78 from O'Sullivan, who shows his class and concentration to regain the momentum in this final. He leads 5-4, but would dearly love to eke out the final frame of the sesh for a 6-4 lead heading for this evening in Shanghai.
O'SULLIVAN 4-4 BRECEL (32-29)
Two more frames to be played of this first session. Brecel back doing his thing early on as a long red nestles in the pocket and he lands on the black. O'Sullivan breaks off, and could be sitting down here for a while. Brecel with another run of 29 before he is forced to run safe with white running as freely as Luca's cue action. Leaves O'Sullivan long red chance, but he can't convert this time. Luca then misses red to left middle, and Ronnie is suddenly in business here as a plant on reds to right middle drops.
O'SULLIVAN 3-4 BRECEL (98-31)
No run to the line for Luca that time as tricky black fails to drop, but Ronnie then overhits a red down the rail. That is frustrating. "Didn't need to hit it that hard," says Irish professional Fergal O'Brien on comms. An important frame in this final, but Luca goes for another all-or-nothing long red. Doesn't drop. Looks good for O'Sullivan to stop the bleeding here to level at 4-4. And he is going to restore parity in this final. As he tucks away the final two reds and colours with a late cameo of 43.
O'SULLIVAN 3-4 BRECEL (49-7)
Twice Ronnie has tried to open the pack of reds, and has twice landed on nothing. Pushes the boat out with long red to green bag. Doesn't drop and Luca is back at the baize with a chance to hit back here.
O'SULLIVAN 3-4 BRECEL (34-0)
Well, O'Sullivan with a stunning long red from distance straight off the bat. Makes 22, but can't get the pack of reds open from the black and forced to run safe. Luca misses long red for once and Ronnie back at the table with chance to score. Would suggest he has to start throwing a few punches of his own here.
O'SULLIVAN 3-3 BRECEL (0-103)
What can you say about this from the world champion? More brilliance from Brecel as 103 of his very best are racked up in next to no time at all. Staggering level of consistency when he gets moving. He leads for the first time in this final at 4-3. Three more frames of this sesh to play.
O'SULLIVAN 3-3 BRECEL (0-71)
Luca is enjoying himself out there. Looks for all the world like Brecel is going to mop up to move 4-3 clear. Another O'Sullivan error is going to be heavily punished.
O'SULLIVAN 3-3 BRECEL (0-35)
Ronnie can't sink a long red, and looks a bit rueful as he heads back to his seat. Poor miss by his standards. Early chance for Brecel again to start scoring a few points. Which he has been doing recently. And he is off on his merry way here.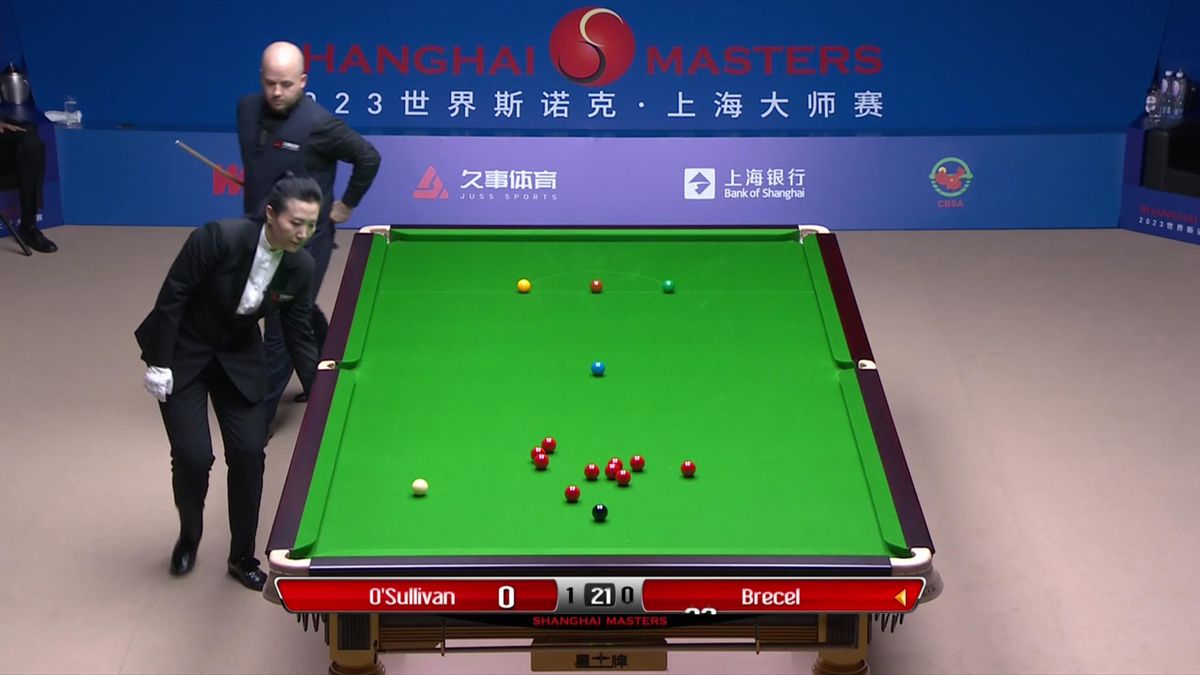 O'SULLIVAN 3-2 BRECEL (22-98)
So Luca putting these balls away like a hot knife through butter. That missed red with the rest is going to cost O'Sullivan the frame. Almost makes the century, but white follows the doubled black down a pocket. Magic from Brecel. A rollicking good 98 break from the Belgian Bullet. We are level at 3-3.
O'SULLIVAN 3-2 BRECEL (15-52)
Ronnie failing to punish the Brecel errors in this frame, and could end up costing him it. Luca won't keep making blunders. Especially not from close range among the balls. Already up to 46 on this break.
O'SULLIVAN 3-2 BRECEL (15-1)
Brecel with another poor safety shot at the outset of this sixth frame. White rifles back into the reds, and O'Sullivan will be content to accept such a gift. But he can only add one to the scoreboard. And then misses a red with the rest that he should have potted. Chance passes to Luca.
O'SULLIVAN 3-2 BRECEL (0-0)
Off we go then for the sixth frame of the day. Halfway through his fascinating first session. Ronnie the more measured player in this final. That tells you how carefree Luca plays the game.
O'SULLIVAN 3-1 BRECEL (0-76)
In goes a thumping cross double on a red to stay at the table, and this is going to be a one-visit kill for Luca here. A rapid knock of 75 sees him close the gap to 3-2 in this showpiece final. These men not messing about. They never do.
O'SULLIVAN 3-1 BRECEL (0-52)
Brecel has a wonderful habit of being able to pull out a fine recovery pot when the mood takes him. Is really a remarkable habit. White not always under lock and key, but it doesn't always matter when Luca is potting balls.
O'SULLIVAN 3-1 BRECEL (0-20)
Some nice early running for Luca as he flukes another red. Allowing him to gain the upper hand in the tactical battle. Slots a decent red into a top pocket and is right out among the balls. Another six frames to be played in his session so plenty of scope to be well involved in this fight heading for the second sesh.
O'SULLIVAN 2-1 BRECEL (79-48)
Ronnie picking up the pieces at the right time to ease himself 3-1 ahead at the mid-session interval. Luca not taking enough care over a few safety shots, and pays the price. They head for the mid-session break.
O'SULLIVAN 2-1 BRECEL (57-48)
Game has gone a little bit scrappy in this frame. Brecel throwing in a few poor safety shots and Ronnie has gained the upper hand here as he drills home the final red. Chance to scramble over the line for a 3-1 lead. In goes the green.
O'SULLIVAN 2-1 BRECEL (40-40)
A few misses from both men that you don't expect. Ronnie with a tough pot on red with the rest, but can't drop it in. Wasn't easy. We're down to the final three reds with this fourth frame well in the balance.
O'SULLIVAN 2-1 BRECEL (24-32)
Luca in prime position among the balls at the business end, but he misses black off the spot. Nudges red on way through, and Ronnie handed a reprieve in this fourth frame. Far from easy to win frame at this visit with reds loaded towards a side rail. And he misses red to right centre.
O'SULLIVAN 2-1 BRECEL (0-16)
Fantastic spot of luck for Luca as he somehow sees a red disappear down a pocket off another red trying to play safe. Offers the hand in apology, but this is a chance to make a few points. Have to take the running when it comes along. But no more than 15 at that visit. Tuck in behind the brown brings him another chance seconds later as Ronnie can't get white safe.
O'SULLIVAN 1-1 BRECEL (76-38)
Super knock of 57 from Ronnie, but can't dislodge those problem reds. So just the safety to follow. O'Sullivan then rams home another fantastic long red. In goes black before Ronnie touches the yellow playing a rest shot. But O'Sullivan is right on his long game as final red to green bag disappears moments later. O'Sullivan back in front at 2-1. Seeing the object ball at range as clear as a bell so far.
O'SULLIVAN 1-1 BRECEL (31-34)
Ronnie with two thumping long pots on reds. That will make him feel good. Real test of the cue action, but he passes with flying colours. Two reds on side cushions to deal with, but obvious chance to get right back into this third frame.
O'SULLIVAN 1-1 BRECEL (4-34)
Luca can't slot a red with the rest. O'Sullivan plays safe before Luca then mishits a safety shot after clipping the yellow as white drops down a hole. The referee has to replace these balls. Could take some time this one to get the balls back.
O'SULLIVAN 1-1 BRECEL (0-28)
O'Sullivan can't slot a long red, and Brecel rolls in a red at top end of table before carting home a long trademark blue to yellow bag. Fearless potter when he is in full flow. Not hanging about out there so far.
O'SULLIVAN 1-0 BRECEL (0-134)
What can you say about this? Just too good. In goes the century from Luca before he clears the colours for a total clearance of 134. Clipped that red into the right centre pocket with an audacious pot and clears the table. We are all level at 1-1. Battle is joined. You might say.
O'SULLIVAN 1-0 BRECEL (0-70)
Golden chance of a century for Brecel in the second frame. What a start to this match. Rapid, quickfire stuff from both men among the balls.
O'SULLIVAN 1-0 BRECEL (0-55)
Luca an expert at potting balls from all over the table. A very dangerous customer when he is in the mood. And he has been right at it in the second frame. That long cue action gives him so many options when he is making a break. This has been some response.
O'SULLIVAN 1-0 BRECEL (0-16)
Luca with a marvellous cut on a red to right middle. What a shot that is. Very much in the mould of see pot, play pot. He isn't going to get bogged down in any tactical stuff today. That is for sure.
O'SULLIVAN 0-0 BRECEL (86-4)
So O'Sullivan rolls in another 48 to go with the earlier 38 in putting the first frame to bed. Classic O'Sullivan. No messing about. Efficient and businesslike at the table when the chances came along. He leads this final 1-0.
O'SULLIVAN 0-0 BRECEL (65-0)
Luca yet to really settle out there. Has chance of a long red to get back into the frame with hand on table, but butchers the pot. "Never a good feeling as a player when you do that," says Alan McManus, the 1994 Masters champion, in comms. We've all been there, Alan. Hitting across the white ball. But then again, we're not playing for 210 grand. Anyway, golden chance for Ronnie to get frame won.
O'SULLIVAN 0-0 BRECEL (38-0)
Ronnie leaves Luca a long red to go at. Can't drop that in from distance. And O'Sullivan makes a rapid 38 before running out of position. Just lost the white at key moment, but not a bad little camero run to get the cue arm working early on.
O'SULLIVAN 0-0 BRECEL (0-0)
A huge welcome for both players for this final. And rightly so. Ronnie gets us up and running. 10 frames to be played this morning, and 11 in the evening session. If they are needed. Could have an absolute classic on our hands.
Good morning and welcome to the final
Does not get any better than this on a snooker table. Hope you have the kettle boiled and ready for an epic morning cuppa. Snooker GOAT and world No. 1 Ronnie O'Sullivan meets world champion Luca Brecel for the Shanghai Masters crown and a £210,000 winner's cheque at the elite 24-player invitational event.
O'Sullivan is chasing a record fifth title in Shanghai and a fourth straight title success against a player who won seven straight frames against him from 10-6 down in a famous 13-10 quarter-final win at the Crucible in April. Of course, that was a major step on Brecel's road to becoming Belgium's first world champion.
Should be a thrilling contest with the morning session of this best-of-21 frame final all set to break off before a packed crowd at 7am (BST) and the concluding session from 12:30am (BST). Boys on baize time imminent.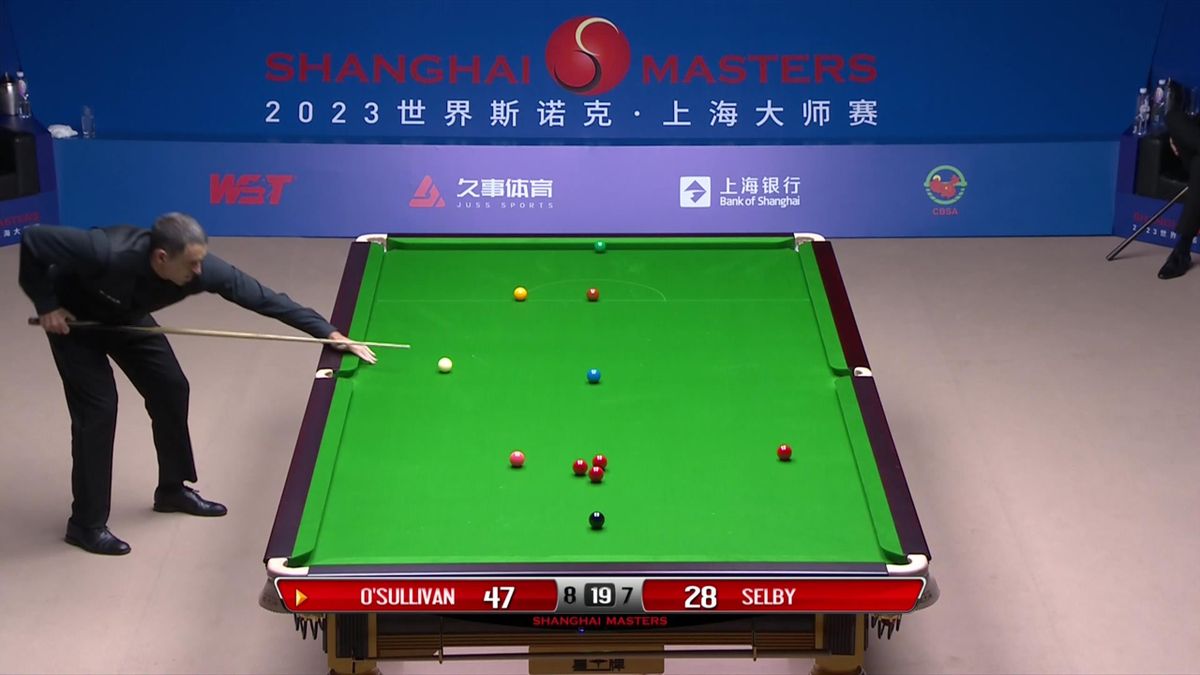 Welcome…
…to live coverage of the Shanghai Masters final between Ronnie O'Sullivan and Luca Brecel.
Stream top snooker action, including the Shanghai Masters, live on discovery+, the Eurosport app and at eurosport.com
Read the full article
here