Australia
Brother of American Scott Johnson has 'closure' following sentencing of killer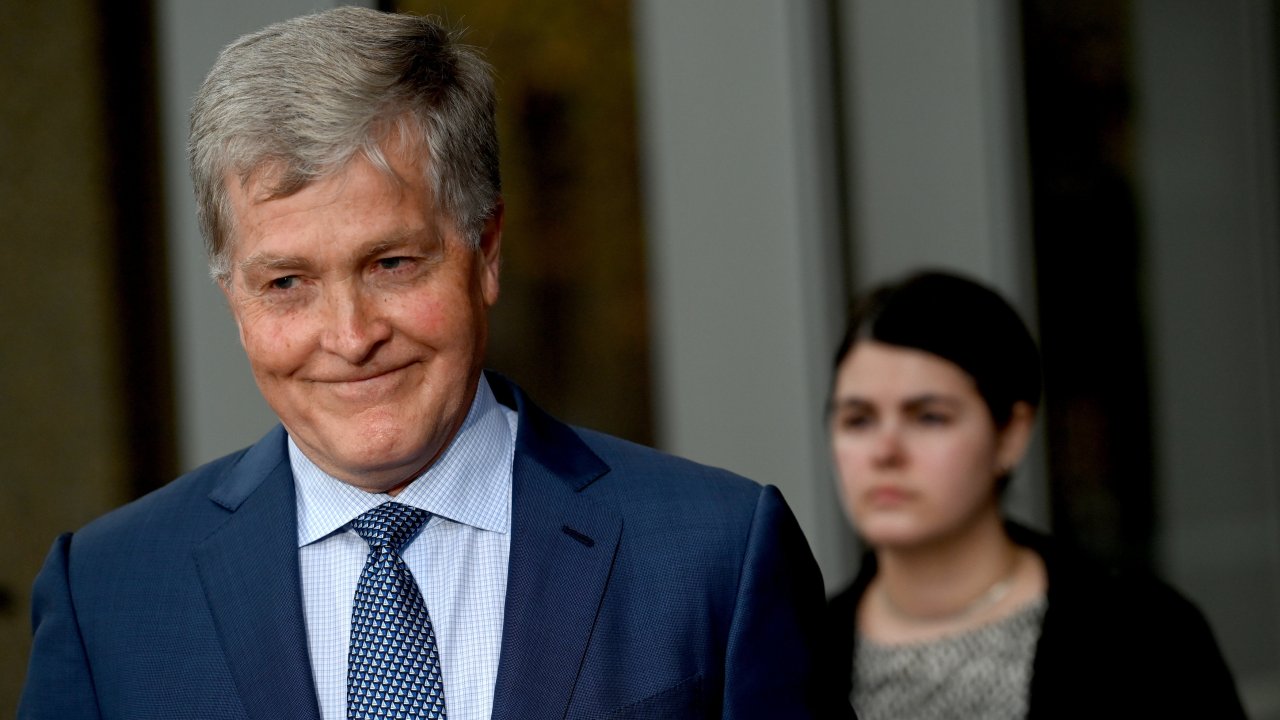 Scott Phillip White has been sentenced to nine years in jail with a non-parole period of six years for the manslaughter of gay mathematician Scott Johnson in 1988.
Mr White will be eligible for release in 2026, having already served three years of his sentence.
Justice Robert Beech-Jones said "Not much is known of the death beyond a punch on a cliff, a fall from a cliff and decades of pain and grief that followed," during sentencing at the Supreme Court on Thursday.
Mr Johnson died on December 10, 1988 when he was found at the bottom of a cliff below a popular gay beat in Blue Fish Point, Manly.
An exclusive investigation by Sky News Australia's Caroline Marcus details the arduous journey Scott's brother Steve has travelled with his family in his bid for justice as he "refused to accept the police conclusion" that his death was a suicide.
Speaking to media outside the court on Thursday afternoon, relief washed over Steve Johnson's face as he addressed the sentencing of the man responsible for his brother's death.
"The sentence means that this is over. A lot of people, a lot of work into getting us here today. We're one of the lucky families that have a killer behind bars," Mr Johnson said.
"We know it was him, he confessed to doing it. I wish I knew more about why but I think our family's got some peace and I would even say closure that we won't be back here again talking about an appeal.
"Two sentences is enough and I think he provided good enough confirmation that he was there on that cliff and pushed my brother over. I'm not second guessing the sentence."
Mr Johnson expressed relief that the proceedings were finished after 25 trips to Australia to investigate how his brother died.
He recalled the difficulties he had with convincing the state's law enforcement to treat the death as a homicide after police had concluded it was a suicide, saying they kept trying to "shut the door" on the case.
"They formed Strikeforce Macnamir to look at my brother's case and I say look at my brothers case because they were not investigating (it), they were trying to figure out how to get the door closed again as we've learned by the Special Commission," he said.
"And they demonised my family by calling us obsessed, erratic, a list of other names they called us in emails to each other, texts to each other as we've learned from the Special Commission's proceedings."
"Finally the case was in police hands and we trusted that. A year went on, they closed the case. And thank god Michael Barnes the state coroner who came in in 2014 and said we're gonna take a look at this in a third inquest.
"The evening he decided that, the NSW police had a long contrived plan to go on a television program and defend their investigative work and to cast doubt on our family and on my brother and try to reinforce their original assessment of suicide. They went to great lengths, they spent months planning this. It didn't work."
Mr Johnson said the support he received from Australians and the media in his fight for justice added more fuel to the fire.
"We kept coming back and good people kept joining to fight for this because Australia can see Scott's case isn't the only one, there were hundreds of other victims and dozens of other deaths that had gone similarly ignored by police."
"Michael Barnes determined courageously, although after the inquest it was inescapable that my brother died of a gay-hate homicide."
He said he was "very proud of what everyone's done" in the lead-up to the sentencing however expressed disappointment at a lack of investigation into many gay hate crimes that occurred in New South Wales in the past 50 years.
The Special Commission of Inquiry into LGBTIQ Hate Crimes in New South Wales has been probing the unsolved deaths of 88 gay men from 1976 to 2010.
"(The Commission) is full of evidence the police aren't really doing their job with respect to LGBTQ crimes, there is no hate crime unit in the NSW Police," Mr Johnson said.
"It's inescapable to me the NSW Police needs reform in how it deals with LGBTQ crimes and their families. I hope that happens."
Read the full article
here