Australia
Police association responds to Lidia Thorpe using incident to 'score political points' after viral take-down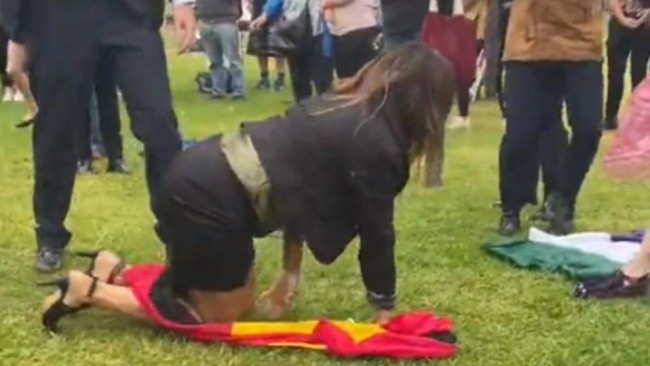 A police union has spoken out about the frenzied clash between officers and Senator Lidia Thorpe during a protest at an anti-trans event outside Parliament House.
Australian Federal Police Association President Alex Caruana appeared on Sky News Australia to address the chaotic scenes that emerged from the Let Women Speak event headed by anti-trans advocate Kellie-Jay Keen in Canberra on Thursday.
Video from the event showed Senator Thorpe draped in an Aboriginal flag and yelling "you are not welcome", before she was taken down by police.
The AFP have launched an investigation into the incident following complaints, but Mr Caruana said it appeared that the Senator had just lost her footing after being told to move on by officers.
The union president also claimed it looked as if the officers were also protecting the Senator from another a woman who seemed angered at Ms Thorpe for her protest.
"The AFP officers were there to lend her a hand to try to help her up and protect her dignity," he told Sky News host Erin Molan.
Mr Caruana said it was "hard enough" being a police officer without the added scrutiny and attention being put onto them.
"It's not fair for anybody to use police as political pawns or to score political points," he said.
"Police are there to keep the community safe and that's what my members were doing.
"The escalating occupational violence of police officers all over Australia … is atrocious. Police officers are human beings as well."
Chorusing Mr Caruana's remarks, shadow home affairs minister Karen Andrews spoke out in defence of the officers at the event.
"I think that police were doing the job they were there for which was to maintain a semblance of at least law and order," she said.
"I just hope in the investigation that it's not just the actions of the police that are looked at it's the actions of Lidia Thorpe."
The former Greens Party member made headlines when she was subdued by AFP officers and then crawled on the wet ground before pulling herself up.
Addressing the media at the event, she told cameras she was "pulverised by the police".
"I've been assaulted by the police today, as an (Indigenous) woman and the police need to answer for the assault, and also this government needs to answer why these people are allowed into this country," she said on Thursday.
Senator Thorpe also said Australia should be ashamed of letting "people like this" – referring to Ms Keen – into the country.
"We do not tolerate this kind of filth being on Ngunnawal and Naarm country let alone these Nazi support that these people have that are racist, they are homophobic, they are destroying people's lives," she said.
The Senator is known for causing a string of controversies, including being removed by police after blocking a float during Mardi Gras and referring to the Queen as a "coloniser" during a parliamentary oath.
More notably, she claimed she had a relationship with a former bikie before being cleared for contempt. 
Read the full article
here