Australia
Victorian National Party joins Senator Jacinta Price for the No debate on the Indigenous Voice to Parliament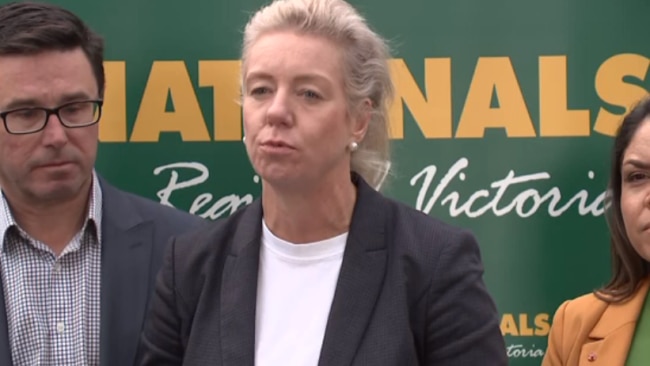 The Victorian Nationals have joined their federal counterparts in opposing the Indigenous Voice to Parliament as support for the referendum continues to drop.
Nationals leader David Littleproud, Victorian senator Bridget McKenzie, Victorian Nationals Leader and state opposition Aboriginal affairs spokesman Peter Walsh joined Coalition senator Jacinta Nampijinpa Price to formally announce the position of the Vic Nationals on the voice debate.
The announcement comes at the beginning of National Reconciliation Week, a day after more than 20 of Australia's peak sporting bodies formalised their support of the yes vote in an open letter to fans.
Senator McKenzie said the Voice proposed by the Albanese government will divide rather than unite Australia.
"I absolutely believe in recognition, reconciliation and importantly better outcomes for Aboriginal and Torres Strait Islanders, but Albanese's Voice proposal will divide Australians along the lines of race and will have hidden consequences," she said.
"I am immensely proud of our Victorian Nationals who have today boldly stood for a united Australia."
Country Liberal Party senator Price has been a pioneer for the No campaign throughout the debate over the referendum.
She linked up with Warren Mundine under the Fair Australia banner as they continue to campaign against "the nation's most divisive referendum we've ever had."
"It is racially charged, it is divisive, it's damaging our country," Ms Price said on Saturday.
"We shouldn't be prioritizing one group of people and their needs based on race entirely. What we should be doing is serving all Australians on the basis of need.
"It is racist to suggest as a race of Australians we're inherently disadvantaged because of our race.
"The gap that exists isn't between Indigenous and non-Indigenous Australia, its between those who are doing well in this country including Indigenous people and those who are marginalised."
The federal Nationals announced their stance on the voice last year with the opinion it would fail to help Indigenous people in their communities.
Senator Price said Victorians who don't support the voice doesn't mean they are racist.
"You are not racist if you support a no vote in this country," she said.
"In fact if you support a no vote, you are suggesting that Indigenous Australians are capable of anything and everything not because of our race but because we're in a wonderful country that provides the opportunities for us."
Senators McKenzie and Price lashed the Australian Electoral Commission (AEC) on Friday over its enrolment advertising ahead of the referendum, accusing it of a bias towards the yes campaign.
This followed comments made by Warren Mundine on Thursday who also accused the AEC of 'crossing the line' over an advertisement which featured a map of Australia with Indigenous art designs, behind First Nations people wearing shirts with the words "Our vote, our future" emblazoned on them.
Supporters and campaigners of the Yes vote have an uphill battle ahead of the referendum as success for the yes vote wanes with support in a recent survey falling to 53 per cent, however senator Price says there's still more work to do for the no debate.
"I'm pleased for the way the yes vote is dropping but it doesn't mean I take the foot off the pedal. It means that Australians are waking up, they're not silly."
Just eight of the 44 proposals for constitutional change have been approved in Australia, with the last coming in 1977.
The referendum on the Indigenous Voice to Parliament will take place later in the year between October and December.
Read the full article
here