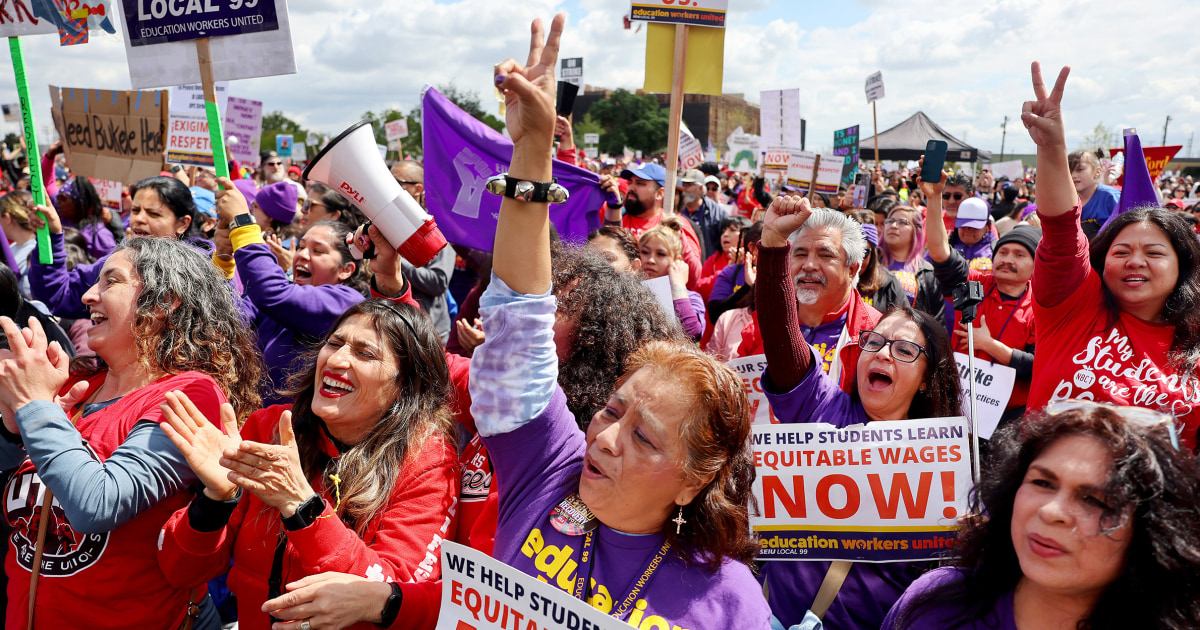 LOS ANGELES — One day after a three-day strike that closed schools, the Los Angeles school district and a service workers union reached an agreement that the superintendent called "historic."
The Service Employees International Union Local 99 said the multiyear agreement amounts to a 30% wage increase, which is what the union had demanded.
Los Angeles Unified Schools Superintendent Alberto M. Carvalho called it a "precedent-setting, historic contract."
The union, which represents more than 30,000 workers at LAUSD, was on strike for three days this week, the stoppage ended Thursday and schools reopened Friday. Teachers also agreed to not cross the picket line.
Schools were closed across the district, the second-largest in the nation with around 420,000 students.
Mayor Karen Bass said housing prices, as well as decades of underinvestment of schools, made the situation impossible for many school workers.
"This is about the high cost of living in Los Angeles," Mayor Karen Bass said at a news conference Friday. "Los Angeles, as everybody knows, has become virtually unaffordable."
Max Arias, executive director of SEIU Local 99, said he hoped the agreement would set new standards across California.
"We cannot continue to rely on people, on a workforce that is basically living in poverty and has to work three jobs to do this work of educating our children," Arias said.
The agreement calls for a 6% wage increase retroactive to 2021; a 7% increase retroactive to 2022; a 7% increase effective on July 1; and a $2-an-hour raise for all employees starting in 2024, according to the district.
It also would raise the minimum wage to $22.52 an hour and includes a $1,000 bonus for all workers who were with the district in the 2020-21 school year, among other benefits.
The union says that it would increase to average annual salary from $25,000 to $33,000, and increase health care benefits.
Arias said that the increase in the minimum wage will allow the district to hire people and ease understaffing issues.
The union will be back negotiating a contract in 2024, and the union still has some unresolved issues, Arias said, but another strike would be a last resort.
Read the full article
here