United States
Ole Miss football player sues university and head coach Lane Kiffin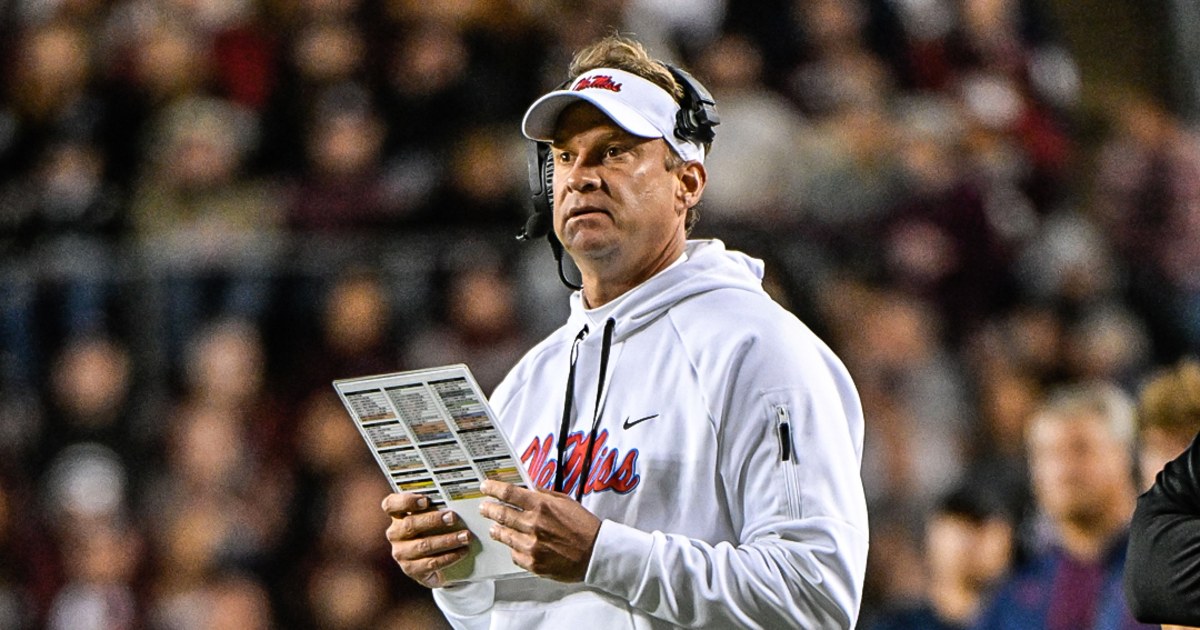 Ole Miss defensive tackle DeSanto Rollins is suing the university and its football coach, alleging he was "subjected to a hostile educational environment" after he took time off to focus on his mental health.
The lawsuit accuses the University of Mississippi and head coach Lane Kiffin of racial and sexual discrimination, among other allegations, claiming that Rollins was "kicked off the football team for taking a mental break." It adds that the university has allowed other student-athletes, including white female softball players, to take two weeks off for their mental health without penalty.
Filed Thursday in the U.S. District Court for the Northern District of Mississippi Oxford Division, the suit seeks $40 million in damages and claims Rollins, 21, experienced emotional distress, embarrassment and physical pain as a consequence of how he was treated.
"It's definitely been hard each and every day," Rollins said in a phone interview with NBC News Friday morning. "For one, not being with the team, it hurts a lot."
"It's definitely been hard each and every day."
DeSanto Rollins
"What happened to me is not what should have happened," he added. "I do feel like mental health is very important. I feel like people should take it very seriously." 
The lawsuit says that Rollins suffered a series of injuries during football practice and workouts, and that Achilles tendon and knee injuries he suffered in 2022 limited his ability to walk or stand for extended periods of time, leading to "severe depression," frustration and anxiety. 
Neither coaching staff nor anyone else at the university provided Rollins with a referral for a mental health evaluation after the injuries, or later, after the death of his grandmother, with whom he was very close, the lawsuit said. It also claims that Kiffin forced him to continue participating in football practice after his knee injury.
The suit goes on to say that in November Rollins was told by the university's defensive line coach that he should transfer to another school. When he refused, Kiffin allegedly demoted him in February from his defensive tackle position to the scout team on the offensive line, yelling at him in a "hostile and verbally threatening tone" and telling him he should quit if he disagreed with the re-assignment, according to the suit. Rollins then told Kiffin he wanted to take a mental health-related break, the suit continues, "because of the verbal abuse from Kiffin and the mental anxiety, depression and worthlessness he was feeling." 
The following month, Rollins and Kiffin met again and the coach allegedly berated Rollins for "two weeks of not showing up." 
"What f—ing world do you live in?" the lawsuit alleges Kiffin screamed at Rollins, later telling him, "It's called being a p—y, it's called hiding behind s—, and not showing up to work." 
Kiffin did not immediately respond to an email or phone message seeking comment. The University of Mississippi said in an email Friday morning that it had not yet received the lawsuit and that "DeSanto was never removed from the football team and remains on scholarship. In addition, he continues to have the opportunity to receive all of the resources and advantages that are afforded a student-athlete at the university."
Ole Miss' roster still lists Rollins.
In a tort claims demand letter filed May 3, Rollins' attorney, Carroll Rhodes, described the player as a model student-athlete on and off the field who regularly made the honor roll. The letter, addressed to the university chancellor, Kiffin and others, stated that Rollins had experienced a mental health crisis and that the encounters with Kiffin had been one of the contributing factors. Kiffin and Ole Miss never responded to the letter, the lawsuit says.
Read the full article
here